W W W W  World Wide Web Witness Inc.  Home Page   Contents Page for Volume  What is New
CHAPTER THREE
ABUNDANT LIFE IS BORN CRUCIFIED
AND SECURE PAST ALL SEASONS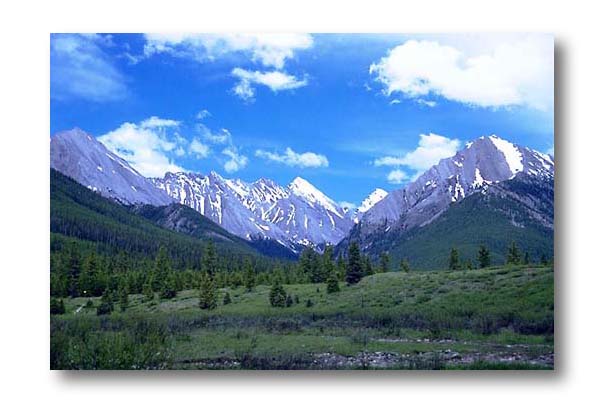 'Born Crucified' (Maxwell of Prairie Bible Institute) puts the point concerning new birth in Christ. It is not a luxury of slavish sentiment, putting the Pope on top, or some church, or institution. It involves having GOD as your Father, and spiritually, NONE OTHER, CHRIST as your elder brother, with all honour, SIN as your enemy with all care quashed and dismembered by the power of the resident president of your life, Jesus Christ. It means growing up into Christ, dying daily, bearing about in your body the dying of Christ, to quote various phrases from Paul (II Cor. 4:9,11, Romans 8:36, I Cor. 15:31).
It may seem harsh, it is in fact glorious. So it is with a swim sometimes in cold weather; at first it is repellent, but then the full response arriving, one is tingling with warmth and surging with strength, while the elements seem to whirl in glad and wholesome friendliness, on the beach of austere beauty, which in its time, will smile again.
But 'crucified' ?
Especially, it means FUNCTIONING NOT MERELY PHRASEOLOGY, in Christ. Let us discover some of the hard things, which abound in glorious things; and the more when, appointed to salvation, the Christian finds the strength of the Lord in the way, filled with meaning, gleaming with all necessary power and resource, replete with challenge, covered with the comfort of unparalleled companionship, and filled with the purity which in height and in depth, is the work of a love abiding with profundities of grace and kindness which well deserve that delightful term, 'lovingkindness'.
There are four seasons in the year. There are four elements we may accordingly select. Not that Nature has anything to teach us as a resource or basis, but as an illustration, since God made that too.
WINTER
In Winter it teaches us to know the plan of salvation (Galatians 6:14, with Chs. 1-3) and to see clearly in the outlines of the bare trees of the faith, the realities, By faith are you in a saved condition, through grace, and that entire thing is not of yourselves, it is the gift of God, is the sense of the Greek in Ephesians 2:8. For that reason, Paul proceeds, you are HIS workmanship. None can boast, for He made the universe, and then re-made you, if you are Christ's.
SPRING
There is the Spring, when fresh understanding and growth in knowledge and spiritual vitality comes (II Peter 3:18, Ephesians 3:16), you soar to the celestial places, realise that you are sitting in a heavenly location (Ephesians 2:6, 1:17ff.), indeed that you have been translated into the Kingdom of God's dear son, and hence are LIVING in the kingdom of heaven, which does not come with observation, but is "in your midst" or "within you" (Luke 17:20). Indeed, you come not only to be strengthened with might in the inner man, but find that as you wait upon the Lord, your renew their strength and mount up with wings like eagles, according to promise (Isaiah 40:31 cf. Psalm 103:5).
SUMMER
In Summer, there is comparative pleasantness, with much leafy growth, reminding us that "You will keep him in perfect peace whose mind is stayed on You, because he trusts in You. Trust in the LORD for ever, for in YAH the LORD is everlasting strength". Indeed, it is "rock of ages" which is found in the Lord, and not in some psychology, or papacy, or presbytery, or assembly, or culture vamp, or guru. The Lord is the Lord and there is, simply, no one EVEN LIKE HIM (Psalm 89:6-7), nor was any god before Him, nor will there be after Him, for He is the first and the last, from everlasting to everlasting and does not change (Psalm 90:1-2, Psalm 102:26-28, Isaiah 43:10-11, Malachi 3:6, James 1:17), and in HIM ONLY is salvation (Acts 4:11-12, Ephesians 2:1-10).
FALL - AUTUMN
The FALL, or Autumn as we call it in Australia, is left to last, for it is good to consider it in more depth in this topic. The leaves fall. The glory departs, but as it departs, it intensifies. The life products intemperately are gone, the burden of much work disappears. We are reminded of Paul, as he speaks in II Cor. 1, that "we had the sentence of death in ourselves, that we should not trust in ourselves but in God who raises the dead, who delivered us from so great a death, and does deliver us; in whom we trust that He will still deliver us" ( II Cor. 1:9-10). Facing stark realities, the underlying basis of all this production is conceived, considered, lest confused by many works, one forgets that unless GOD works, the work is in vain, if not vanity itself. "It is vain for you to rise up early, to sit up late, to eat the bread of sorrows, for so He gives His beloved rest" (Psalm 127:2). According, we consider in this 'season', that "unless the LORD builds the house, they labour in vain who build it" - Psalm 127:1.
There is far more than this. The leaves are swept up, or off by the winds, and remind us that the futility of much labour is all too real a possibility, unless one is abiding in the Lord. That the structure of things is vital, that the foundational realities must be understood, the reason why we work, in what we work, to what, for whom and to what end and destiny is all the labour: these are considerations for this season.
Nor is even this all. We die daily, as the apostle says. HOW! Instead of living by our own determinations as seems good, and for our own purposes, whether WE deem them moral or immoral, or as society does likewise for us, we live for the purposes, programs and ends of someone else, who is called the LIVING GOD. That is some change. It is like having a chauffeur, or a commander in the Army when you are used to making your own decisions. No more are you fulfilling your own designs, according to your own value judgments, whether you pride yourself on them, or not. Now you are in active communication with headquarters, and continually as in Psalm 119, study the program and purpose manual. More important to you is God's approval than your own, or that of anyone else (Colossians 1:10). Now with Paul, "For me to live is Christ" - Philippians 1:21.
Your desire is to "walk worthily of the Lord fully pleasing Him, being fruitful in every good work and increasing in the knowledge of God, strengthened with all might, according to His glorious power, for all patience and longsuffering with joy". Hence you are willing to be killed with Tyndale, though your labours are for your nation and not at all for yourself; to be burnt with Cranmer, though your right hand must be punished first in the fires of hate with which the enemies of the gospel, using the very NAME of the Lord, make abominable their dealings.
You can suffer the loss of all things and rejoice, for things are not your aim. Your most precious possessions may be dispensed with, be they reputation or realty. So long as the evils are unjust, it does not matter, so long as one has not asked for the evil by foolishness: for the world is foolish enough, and in its follies, often in religious garments of pure, undiluted hypocrisy, it calls itself good while doing evil, and doing it to you. All these things you bear for the gospel's sake, for the testimony of Jesus Christ, and in this, you are "bearing about" in your body the "dying of the Lord Jesus Christ".
It is sometimes necessary to act as Paul did, and "fill up in my flesh what is lacking in the afflictions of Christ, for the sake of His body, which is the church" (Colossians 1:27). In what ? NOT in redemption: for the blood of Christ performed that in ONE offering ONCE made by HIMSELF (cf. SMR pp. 1042ff.), by which everlasting redemption (Hebrews 9) was purchased. In what then ? In this, that at times people are so accustomed to seeing people reap benefits from Christ in material things or in prestige or in honour or in mere congratulation, receiving honour from one another (cf. John 5:44ff.), that the difference from this world seems slight. It is sometimes necessary to astonish one friends, who cannot at all understand one's conduct, and even suffer at the hands of a misguided 'church' in order to show the difference, what matters, the word of the Lord infinitely above that of man, the gospel intractable and untouchable, the love of God unmutilated and insisted upon, with life lived in it.
Paul's former companions might wonder if some madness, some debilitating folly had struck the former bright scholar and highly placed man in society. But no! It was a command to preach with integrity, to suffer with nobility for Christ and to stand fast and firm in the Lord, whatever the winds that sweep off the leaves of the trees. Yes to do so, though the very leaves of prosperity seem to be driven far from the trunk of one's life, and to turn into so many amazing colours indicative of the blood of Christ and the slow suffering on the cross, on the way.
If you are BORN crucified (I John 3:9, I Peter 2:21-25, Matthew 20:22), and thus have from your very generation from God, this overpowering desire for such faithfulness to God as will not tolerate compromise or conditions of man, so long as He is followed, your will under the nail, His hand on the direction, then is it any wonder if you find Paul expressing just what you find as you live, by saying this:
"I have been crucified with Christ: It is no longer I who live, but Christ lives in me; and the life which I now live in the flesh, I live by the faith in the Son of God, who loved me and gave Himself for me!"
Nor is it merely some one action. The Greek means that Paul has been, and still is, and continues to be in a positive condition of being crucified with Christ, precisely as in Ephesians 2:8, it means that Paul is saved, has been saved and continues in a state, status and condition of being saved by faith through grace, that whole cycle being not of himself, but of God.



NOT A MAN FOR ALL SEASONS,
BUT A MAN OF THE LORD WHO MADE THE SEASONS
Autumn, FALL, is the season of such things. Now you will notice that this is a season, Autumn, but that it is at the same time a life. How can this be ? It is simply that each season represents an ASPECT of the Christian life in an allegory. Thus we should always seek to grow in grace and in the knowledge of Christ, to see the plan and nature of our salvation, to die daily, to relish and flourish in the wonders of the Lord's might and activities. It is a matter NOT of being a 'man for all seasons', always unseasonable in serving some foreign (or local, or international) prelate or culture symbol, or whatever, like the Vicar of Bray, anything for a day, or like the devil, anything for a fray, or like the waters, unstable and without strength to remain, or like a flood, torrential and tumultuous, in the service of this world and its elemental forces. It is rather this: to be a man of God, a Christian person, in whatever season, with all the strength and virtues of all seasons, however unseasonably, present at all times.
When it is with the Lord that one walks, then the branches may quiver in the storm, but they remain in place. The leaves may tumble in pell-mell confusion, but the branches are not confused. The roots may be tried, but the tree is not uprooted; though "every plant which My heavenly Father has not planted, will be uprooted" - Matthew 15:13. But the Christians, these are "called trees of righteousness, the planting of the LORD, that He may be glorified" - Isaiah 61:3.
Thus Peter gives two pieces of advice, which relate to the trials of the seasons, and especially to the rigours of the Fall. First, having reminded us that as Christians we are "begotten again to a living hope through the resurrection of Jesus Christ from the dead, to an inheritance incorruptible and undefiled and that does not fade way, reserved in heaven for you (actively guarded is one rendering), who are kept by the power of God through faith for salvation ready to be revealed in the last time", he goes on to mention, if you will, the Fall, Autumn. This is what we see: In this you greatly rejoice, "THOUGH..." There is a caution, a caveat. This is so, "though," he says, "now for a season, if need be, you have been grieved by various trials" or "in heaviness". Why, if need be ?



SUFFERING, SOVEREIGNTY AND SOLICITUDE
We have often enough looked at Job (cf. Barbs, Arrows and Balms 31, End-note 2), and seen that in HIS CASE, there was the need to exhibit the fact that LOVE is not a matter of payment, that TRUST is not an employe, get confidence as you go, matter. It is not purchasable by reward. It is, as indicated in the Song of Solomon, stronger than death. Job stated: "Though He slay me, yet will I trust Him" (Job 13:15). You do not love for pleasure or reward, but die for it, when it is the love above all, which gives to love its name. The sufferings of Job, then, were didactic, tutoring, teaching to others the wonder of the Lord.
Job was not ASKED if he would LIKE to perform this mission; but was, being a servant of God, assumed willing, and given the task, the essence of which was that he should NOT KNOW IT. Sufferings rained on him, mercy seemed estranged; but the test was in one sense vicarious, not that he should redeem others by paying for their sins, for he had his own; but that he should TEACH others by sufferings which SPOKE.
This was the plan and the accuser, the devil, who had wished to verify his leering accusation, to the effect that Job was in it for what he could get out of it, in this world, a mere profit machine, was aborted in his psychological warfare program. Job stood, though with various tremors. He even began to look for a daysman, a communicator, a barrister, a representative to speak to God for him. He even gained illumination of just that, in that great and glowing revelation in terms of which he declared for all time (Job 19):
"I know that my Redeemer lives,

And He shall stand at last on the earth:
"And after my skin is destroyed, this I know,
That in my flesh I shall see God,
Whom I shall se for myself,
And my eyes shall behold, and not another.
How my heart yearns within me!"
He wanted it inscribed in a book, written with lead ink and an iron pen for all time. It was an experiment most costly, and indeed, in this he was a type of Christ. It is inscribed in a book, from which it was just then transcribed, in presenting this quotation now to you. His wish was granted. In this, Job was granted not only teaching for inspiration, but to become an evangelist! This word of Job's, from the Lord, it has lasted longer than a rock of geology, for it is an affair of the Rock who does not yield, God who ONLY is our ROCK (Psalm 62).

Thus we sometimes must suffer for reasons not at all transparent, and not always better for the present, made apparent. It does however have effects, as with Bunyan likewise, that pastor dying to serve his people but shut in prison where he WROTE the Pilgrim's Progress, source of strengthening and comfort to many millions: it does have its results. The lashing of the gales is the trying of the strength, and when this is given to the plant, planted by "My heavenly Father" as Christ put it, then the result attests.

Job presents one. There are many other needs of suffering which may arise. The faith must not be at all self-centred, but centred on Christ; it must not be alloyed with false or spurious motives, but pure. Like metal, sways Peter, it may need purification, and the fires associated remind us of Summer and its heats.

Indeed, Peter, to take our second case, proceeds later to declare this:
"Beloved, do not think it strange concerning the fiery trial which is to try you, as though some strange thing happened to you; but rejoice to the extent that you partake of Christ's sufferings that when His glory is revealed , you may also be glad with exceeding joy. If you are reproached for the name of Christ, blessed are you, for the Spirit of glory and of God rests upon you. On their part He is blasphemed, but on your part He is glorified" - I Peter 4:12-14.
In other words, active persecution may set in: and we may illustrate here, in the subtleties of modern society, for it is not always a literal fire that is lit.

Thus the author experienced just such an instance in an appallingly unfaithful denomination, when he stood for the word of God, and reasoned for it upon challenge to do so, then only to be slandered, and not at all rescued by many witnesses, who went their way; but finding that the slander was in effect admitted by the perpetrator - but persisted in - after a decade, through the mercy of the Almighty and the love of many, he saw the evil overcome by the power of God, in the name of Christ, whose highest praise is just, and whose service a privilege.

Many were the losses and trials that resulted; and, then, these past, the whole scenario was repeated at the ordained level, in New Zealand, when this time some other Professor denied the bodily resurrection in a way so logically pitiful, and wholly blasphemous, as to deserve all it got.

Yet in these atrociously polluted days, it got it from but few; and while some wondered why one had not taken part in TV interview with the Professor, an interview of which one had not even heard, another party contented himself with calling the author a "firebrand", though in fact, there was little enough fire in that seemingly supine body which allowed this total denial of the faith to proceed even in the Assembly where one had to speak, and that without quarter, of the follies in view. "The presbytery," said one high official in effect, "will take care of you." It began to feel like a Mafia operation. (Cf. Acme, Alpha and Omega - Jesus Christ, Ch. 11, and Stepping out for Christ Ch.5, with SMR pp. 931ff., Biblical Blessings Ch.11.) One is not accustomed to that; but in the service of Christ one has only to read Paul to find the scope of operations which may be in view (cf. I Cor. 4:9-13).




SEASONS THAT ABOUND BUT DO NOT CONFOUND

This is not all. It may be that a set of circumstances of a wholly inexplicable seeming character may arrive, and one may have some actual fault magnified, to teach one wisdom and depth, sensitivity and spirituality in increasing dimensions. The teacher has His ways!

In the former case, one felt indeed what Peter declares: "If you are reproached for the name of Christ, blessed are you, for the Spirit of glory and of God rests upon you". It was a living experience of such force as to be almost, for joy in the midst of persecution, uncontainable. In other cases, the trial takes other forms. God is deep and His ways are perfect, as He perfects that which concerns His people, one at a time (cf. Psalm 84:7, 138:8).

So the fires of our season, SUMMER, come and attack, while the deprivations of Autumn challenge the slack spirit, and bless the watchful one.

Life has many seasons, and can have quite an assemblage, called at short notice, at one time.

THEY, the seasons, must wait, each one for its slot. We who live, in the God who made the seasons, may be called on to endure in many ways simultaneously, or in one special way for quite some time. It tries the patience, purifies the heart and blesses the spirit if taken as from the Father of lights, in whom is no shadow of turnings, who knows the end from the beginning and is most marvellously kind. As in any employment, one finds this out in living; and as in any matter of faith, the trust precedes the experience. That is one reason why it is frankly, so ridiculous to have what some affect, a fruit inspector mode, so that the 'Christian' to be TOLD, by priest or pastor, when and if he is indeed a Christian, WHEN, in order to avoid 'pride' or 'presumption' he satisfies the observing eyes, that his fruits demonstrate it!

As one had occasion to tell one visiting US pastor, who came to investigate various things in one of the Australian churches of his denomination (which was not my own), and visited with us to discuss certain matters: IF the faith is NOT to be deemed present until the fruit is found, then the FRUIT CANNOT COME, for without faith there is no fruit, indeed, you cannot EVEN please God, as Hebrews 11 tells us. FAITH must be inward and personal, though objectively placed in the OBJECT of its attention, the LORD, in Christian things.

If it is, fruit follows. If one for psychological weakness, or pastoral presumption, is allowed to think that one must check if the root is healthy and constantly dig it up, and if the fruit is forming, and constantly dissect, then of course where is the faith ? It is at least being invaded by those who are not of the purity of the Lord, who is the author and finisher of faith, and to whom it belongs. FIRST believe, and then from the objective basis of the ONE in WHOM one believes, comes the strength and the peace and the joy and the capacity and the direction needed.

That is fruit; and at that, Paul indicates that it is of no great interest with him how he is judged by the many who take these things upon themselves, and that in fact he does not even judge his own self: await the time! he charges, await the time. God is so just and man is so imperfect, that the presumption of judging one another, as distinct from simply applying the word of God to clear cases (like theft, non church-attendance, murder and so on) is ludicrous. Like so many ludicrous things, and so many forbidden things (Matthew 7, I Cor. 4:3-5), it is however not uncommon!

Thus fortified, with Job, and KNOWING that your redeemer is alive, whom you will see with your own eyes, resurrected (I Thess. 4, Revelation 22, I Thess. 5:9-10), and believing you are appointed not to condemnation, but "to obtain salvation"), and that the one who enters the door which is Christ SHALL BE SAVED (John 10:9, 27-28), you endure. We count them blessed who endure (as James says in 5:11, when in fact he mentions Job as an example).

It is not that the power lacks (James also mentions Elijah and his affair with the rain in the service of God - 5:17). It is faith which is at work, is strengthened, Christian character which, being formulated, is formed (cf. Romans 5), and the presence of the Lord which operates, as with any friend, but markedly when He is both infinite and one's blessed Creator and Redeemer, who in His own Person, brings "joy unspeakable and full of glory" - as Peter indicates in I Peter 1.

Seasons are seasonable things, and have marvellous power to allegorise for us what the Christian life is, for as one professor put it, is God a poet? In other words, intelligence and wisdom are beyond all things, and the personal God has far more to do than merely program matter. Beyond the stage, is the play, and the players, and past them, the manager and creator of the drama. It is a glorious drama, when you take a part fitting! As to that, the season to repent is NOW (Luke 13:1-3), and the time to put your trust in the Lord is NOW (I Cor. 6); and Christian, the time to preach faithfully is NOW (I Tim. 4:2).
"Be ready in season and out of season. Convince, rebuke, exhort with all longsuffering and teaching," he adds, "for the time will come when they will not endure sound doctrine, but according to their own desires, because they have itching ears, they will heap up for themselves teachers, and they will turn their ears away form the truth, and be turned aside to fables. But you be watchful in all things, endure afflictions, do the work of an evangelist, fulfil your ministry" - from I Tim. 4:2-5.


Do NOT then be a man, a person for all seasons; but a Christian for YOUR LORD, and FOLLOW HIM, for HIS is every season, and beyond any season, is His word, His faith, His destiny, both the destiny in love, which He took when He came to ransom many, and the destiny He appoints, who has gone to prepare a place for the people of God, each one, so that "where I am there you may be also" (John 14:3). What more could you possibly want:



"Whom have I in heaven but You?

And there is none upon earth that I desire besides You.
My flesh and my heart fail;
But God is the strength of my heart and my portion forever."